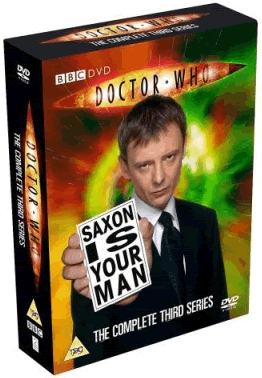 Thanks to Bad Wolf and Rob from
Bad Wolf PR
for the gif animation.
The Amazon Special Edition Doctor Who Series 3 Boxset Cover has been released. The only place you will be able to buy this special box is Amazon, as it's an Amazon exclusive.
On the front of the boxset is a lenticular cover with The Master holding a poster in his hand , when moved it would either say "Saxon Is Your Man" or "I Am The Master".
Last year's Amazon special box was a Cyberman helmet which I bought. I will be buying this one too. Will you?
The Amazon link is
here
where they are allowing
pre-orders
for it at the price of £52.49, the same price they are selling the original boxset.
Which cover do you prefer? The Original Boxset or the Special Boxset?
Enjoy My Post
Please Comment Below
Thanks